How is the Scottish Budget set?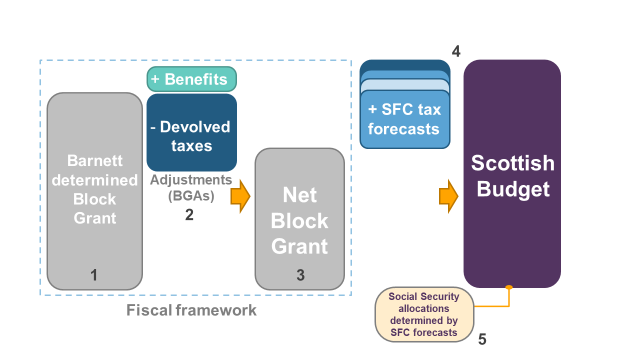 How is the Scottish Budget set?
1. The first step in setting the funding for the Scottish Government is to calculate the funding the Scottish Government would have received had there been no tax or social security devolution to Scotland. This calculation uses the Barnett formula and the funding is called the Barnett-determined Block Grant.
2. This Barnett-determined Block Grant is then adjusted by removing funding where the Scottish Government is now raising its own tax revenue and adding funding where the Scottish Government has become responsible for social security payments. These adjustments are called Block Grant Adjustments (BGAs).
3. The BGAs are applied to the Barnett-determined Block Grant to determine the funding transferred to the Scottish Government for the next financial year, the Net Block Grant.
4. The Scottish Government adds our tax forecasts to determine the funding available for the Scottish Budget. This results in the estimated amount the Scottish Government has to spend in a year, without considering any borrowing or use of the Scotland Reserve.
5. The Scottish Government must fund all of its spending on devolved social security within this budget. SFC forecasts are used to set the allocations for social security spending.
The Scottish Budget is set in advance of each financial year, based on forecasts. Over time information on revenues and spending becomes available, and the forecasts are updated or aligned with these data. The Scottish Government's funding is then altered in response to the outturn data and revised forecasts. These changes in funding are called reconciliations.